Post by applejam on Aug 27, 2012 13:07:49 GMT
First off, I'm glad I found these forums! The website provided me with so much info, thanks to those who've put it all together

Two days ago I found a snail in our kitchen, and its shell was broken, quite badly like two large chunks and then smaller splinters. I got so angry and sad, knowing that it was in the kitchen, middle of the floor, someone must've deliberately stepped on it but not bothered to finish their job. My housemates hate the snails, one of them steps on the ones at our yard on purpose.
I picked it up and set up a box for it. Cleaned it with some water, there were smaller splinters that were completely loose and they came off. Soon the other large piece fell off aswell, and the situation began looking bad. Then last night the remaining bits fell off
The poor thing is completely naked now, and I guess I should try to find the heart to end its struggle, but it is so difficult(and I'm not sure what would be the best way?). It's still moving around a lot, yesterday it ate some cucumber, but not sure if it has today. I got a cuttlefish bone for it and it's been sitting on that now and been munching it. Every now and then I spray it with water.
One question about the ventilation, it's a 2 litre box and I've made 6 holes on it, not very large at all. You can see them in some of the photos below. Should there be more, or will the moisture escape.
A lot of the time I find it hanging from the box lid, and I began thinking maybe it prefers that position because then its insides aren't squished at all by the gravity?
It is strange that it's soft body seems quite intact, it's like the shell just came off and the body didn't get badly damaged in the process.
I am curious though, has anyone else taken care of a snail in this shape? How did it go?
Here's some photos I took... the poor thing won't live long I fear, but I've rarely seen photos of intact shell-less snail, so maybe these photos will be of interest to you and its death won't be for absolute nothing!
The state I found it in...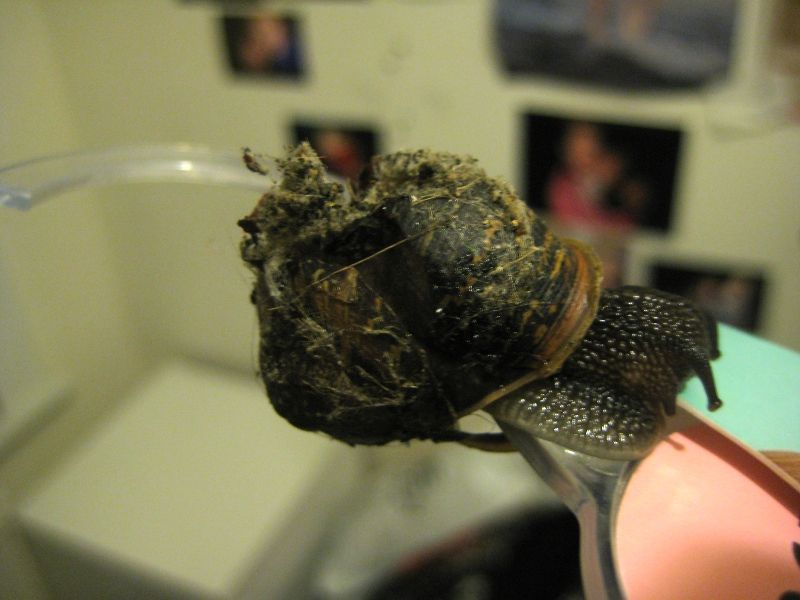 Next morning, half the shell has come off. It's still eating.
(btw that white bit in the middle isn't a see-through, it's just the light reflection)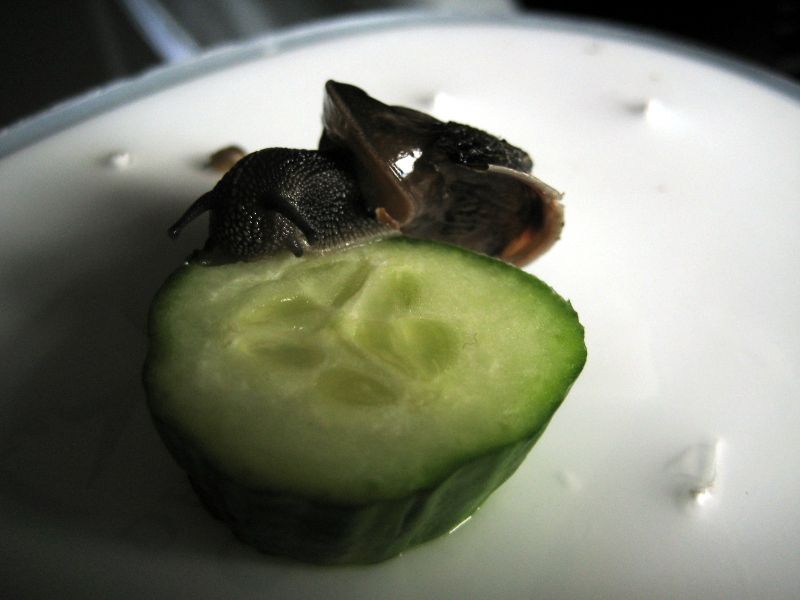 Oww
And then today, all of the shell gone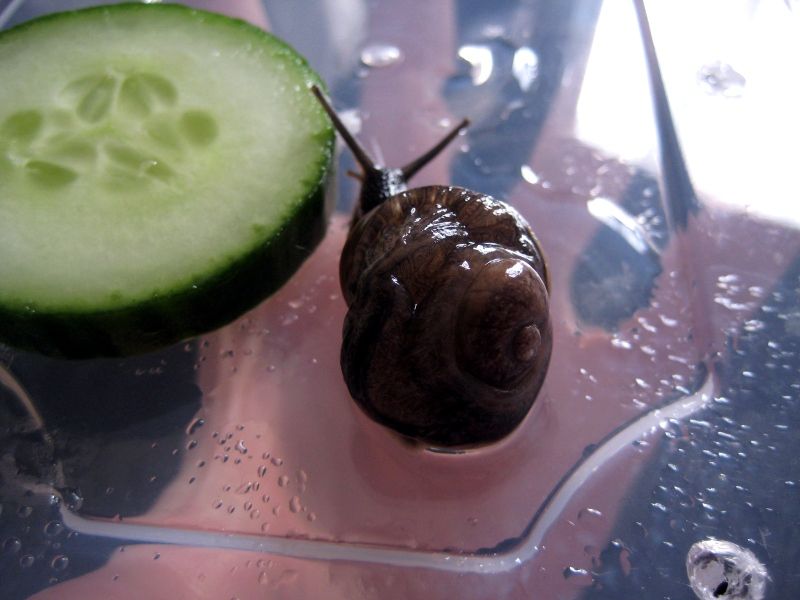 On this side, there's two moving spots, both seem like the pulse? Especially the bit that is bulging out a bit.
And one from this side...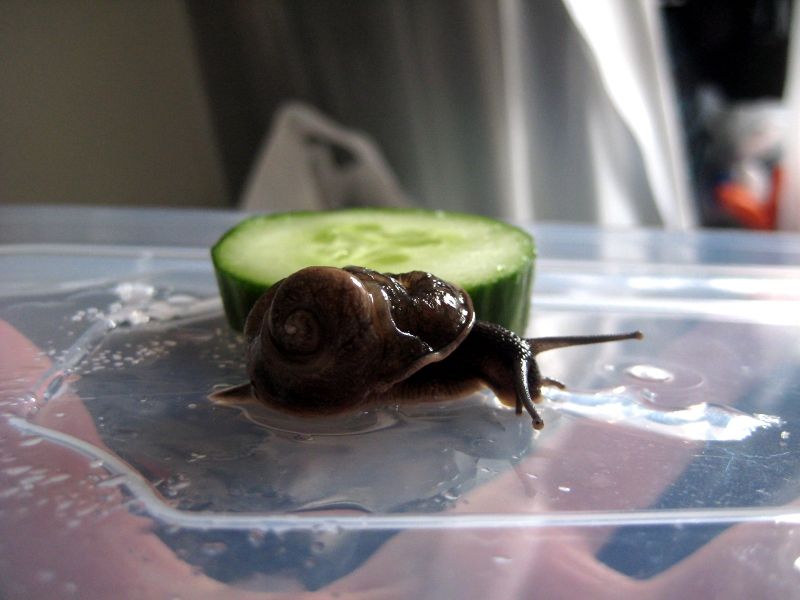 Behind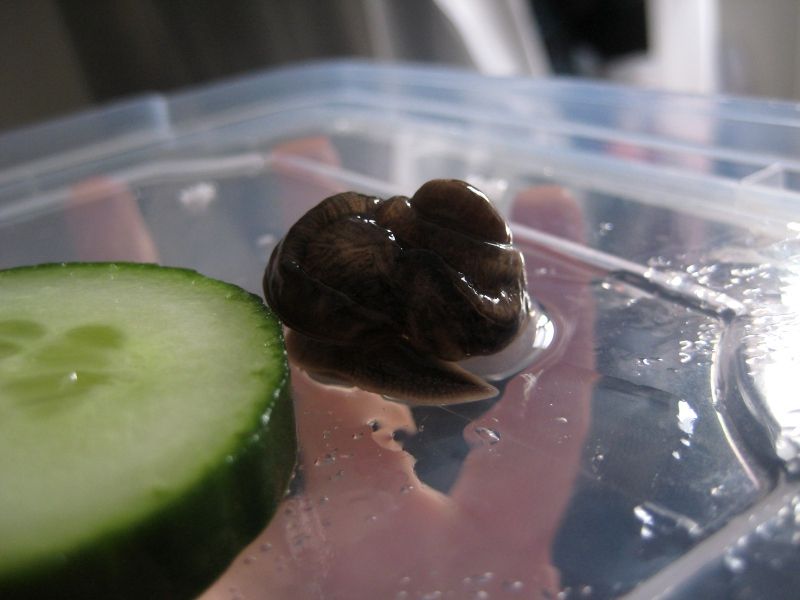 Top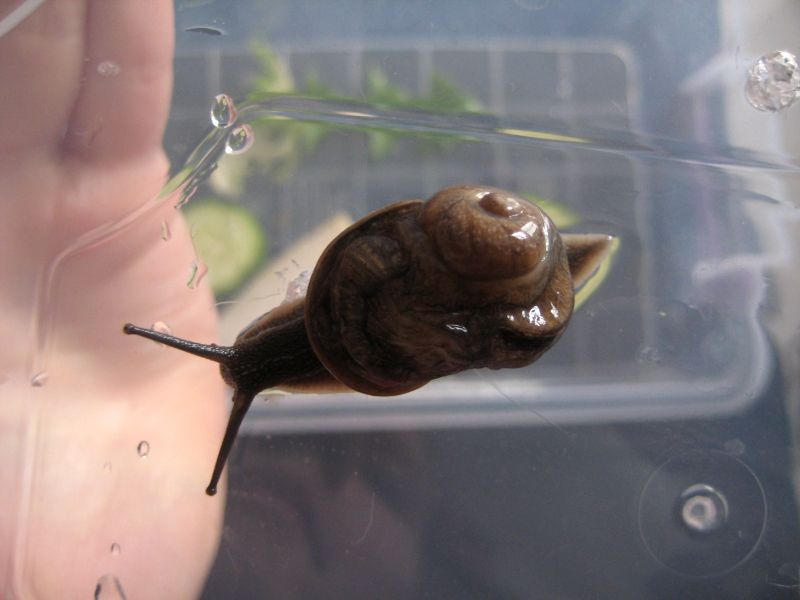 And here's a little surprise, which appeared in the box right after I put the bigger snail and some leaves into it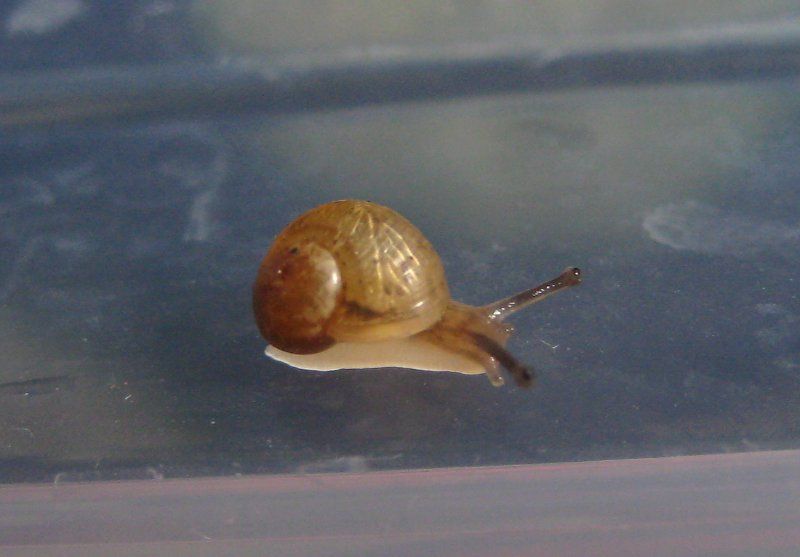 How I wish there was a way to give it a brand new shell