Post by Cashell on Jun 5, 2015 18:11:53 GMT
Shop status:
DEFUNCT
Last updated: Saturday, April 06, 2019 7:59 PM
Live in a province that doesn't have cepaea nemoralis? Maybe you do, but all you can find are the yellow shelled, multi-banded varieties? Whatever the case may be, I've got
tons
of cepaeas in many colours that need to find good homes, so buy yours while they last! Send me a PM to make a personal inquiry.
Oh, and you MUST have Paypal! No Paypal no deal.
These snails are wild-caught adults, which is good for genetic diversity and health, should you decide to breed them.
⭐⭐⭐ 04/25/17 Important Payment Update⭐⭐⭐: Because I'm a Canadian that deals with Canadian customers, I'll now accept Interac e-Transfer. In fact, after trying it for the first time with a customer recently, I can now say that I actually
prefer
this method. Why? Because there's no 3-5 day processing to get it to your bank, since the money is sent straight to your bank!
This allows me to post them faster.
I know some of you have initially suggested to use this payment method from long ago, but I've always found some reason to shun it, but not anymore! Just make sure that you're using
one of the 250 participating financial institutions found in the site here.
Yellow shelled, multi-banded brown-lipped snails: $5 CAD Null
Yellow shelled, single or zero banded brown-lipped snails: $5 CAD Null
Reddish-amberish-brown shelled brown-lipped snails (all varieties): $5 CAD Null
Brown shelled brown-lipped snails (all varieties): $5 CAD Null
Anguispira alternata: $7 CAD Null
Neohelix albolabris: $7 CAD Null
Special note to International customers:
Due to the increased risks of fraud and other issues that can happen from shipping abroad, I will not be taking international requests. For now at least.....
The ordering process:
1. You select your desired species, colours and quantity.
2. Customers typically ask for pictures afterwards, so I always post pictures of the snails to prove the legitimacy of their order.
3. If it hasn't been provided already, I will request a zip code in order to give you an accurate quote. Bear in mind that the Northern Prairies and Territories tend to have
very high
shipping costs, so be prepared for this in advance!
4. After calculating everything, I will typically come back with three options: Regular parcel, Xpresspost or Priority. Xpresspost or higher is recommended for tracking. In fact, if you're not in Ontario or southern Quebec, you really should only choose Xpresspost or Priority unless you absolutely can't afford it or don't want to for other reasons.
5. If you are satisfied with the total costs for everything, I will then request your first and last names, street number, name and direction, apartment number (if applicable), city/town name, province/territory and postal code for the parcel.
6. The entire sum must be deposited into my PayPal/bank account
at once
, before I proceed with posting the snails. No "I'll pay you later," or "I can only pay 75% of that cost right now," or any other kind of non-sense like that. If you don't think you'll have the money, it's advised not to place an order at all. I know this is common sense, but trust me, there are people out there that like to play with monkey tactics, so it's very important that I get this out here to make things clear and straight.
7. Be advised that it does take 3-5 (usually ends up being 2 or 3 most of the time) days to process the money from PayPal into my bank account. Until that time, I cannot post, so this is a good time to just ask me about general snail care questions and other snail related topics.
⭐⭐➡➡ If you pay with Interac e-Transfer between Monday - Friday, the money ends up into my bank account immediately. ⬅⬅⭐⭐
8. Once the money arrives into my bank account, the snails are then posted, so be on the look out or use your tracking code if you went with Xpresspost or higher, and enjoy your snails!

Refund policy
Your snails are fed before they're posted and are in good health, but if they die, you may be eligible for a refund if you can provide two photos for evidence of the following within
14 days
:
1. A photo of the shell exposing the aperture
2. A photo of the shell candled. This is extremely important for proving whether your claim is legitimate or not. Candling is when you put the shell on top of a flashlight to illuminate the shell and expose everything inside. If you still don't know what this is, how to do it, or what it should look like, scroll to the bottom of this post to see the new attachments.
3. Bear in mind that refunds are also given based on my discretion. If I suspect
foul play or cruelty
, you will not be given a refund.
Ever
.

Privacy policy
Your confidential information is kept strictly private with me and is never given out to any other parties. Why should you trust me with orders? I have been a member of this site for several years, contributing to discussions, enjoying a good reputation and I have dealt with customers before who had a satisfied experience. Robbing people or leaking confidential information is not only a federal crime here, but it's also an extremely jerkish thing to do, so I have no intentions of putting myself in an avoidable situation like that. Oh, and I'd also be banned from this site big time!
Trading?
I'm generally not open to trades, but if you happen to have monadenia fidelis/pacific sideband, allogona townsendiana/Oregon forestsnail, arianta arbustorum/copse, then I'd gladly make an exception and trade for those species! Pacific sidebands and Oregon forestsnails both live in southwest BC and Vancouver island, while copse snails can be found in New Brunswick, Newfoundland and reportedly Prince Edward Island. I
may
also consider large Oreohelix species which can be found in southern Alberta's mountain forests, but more so have my eyes on the other three mentioned above.
Samples of colours available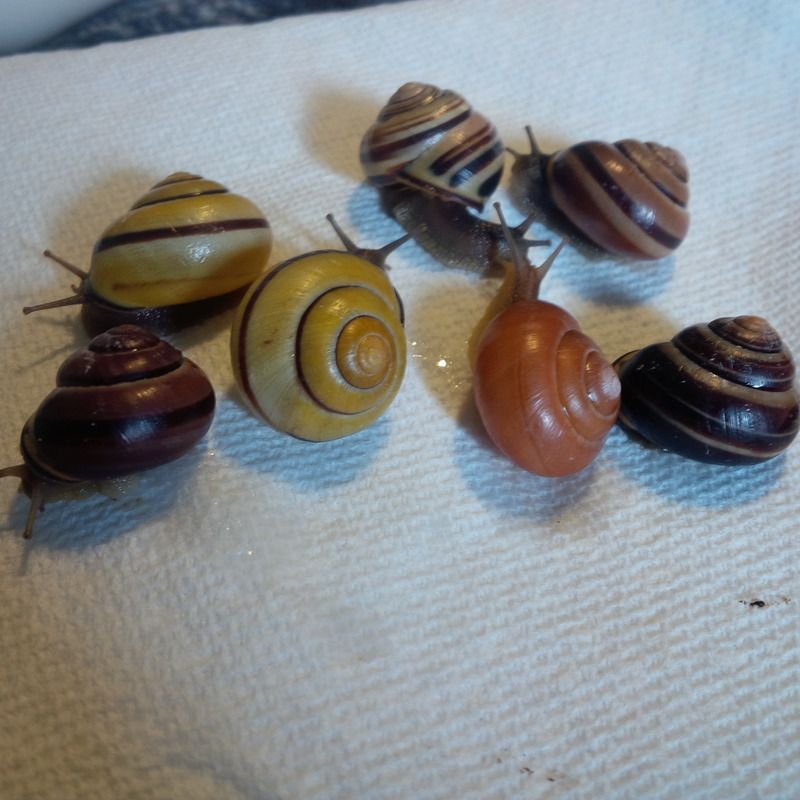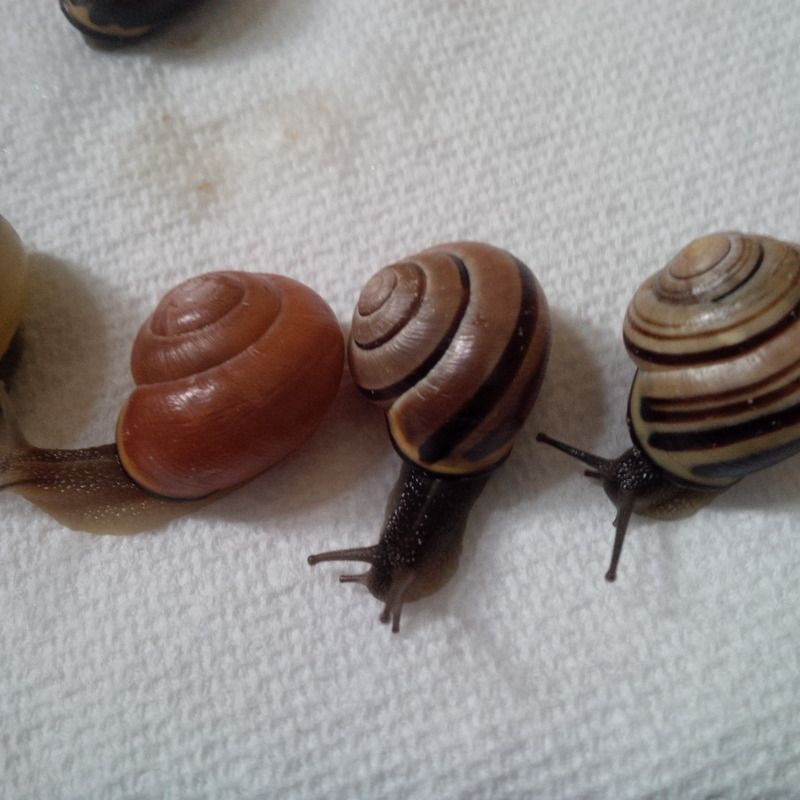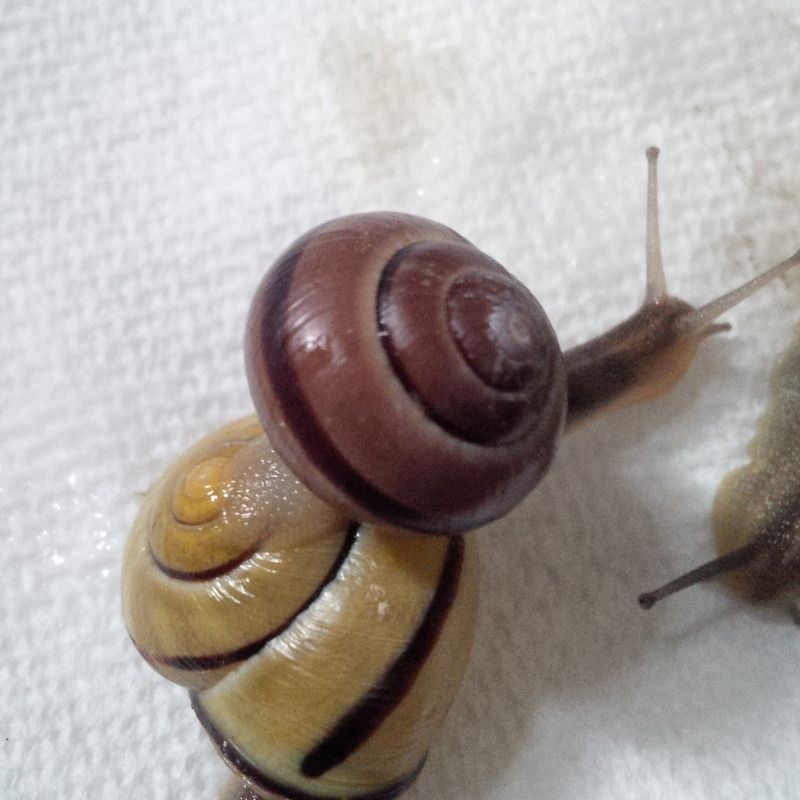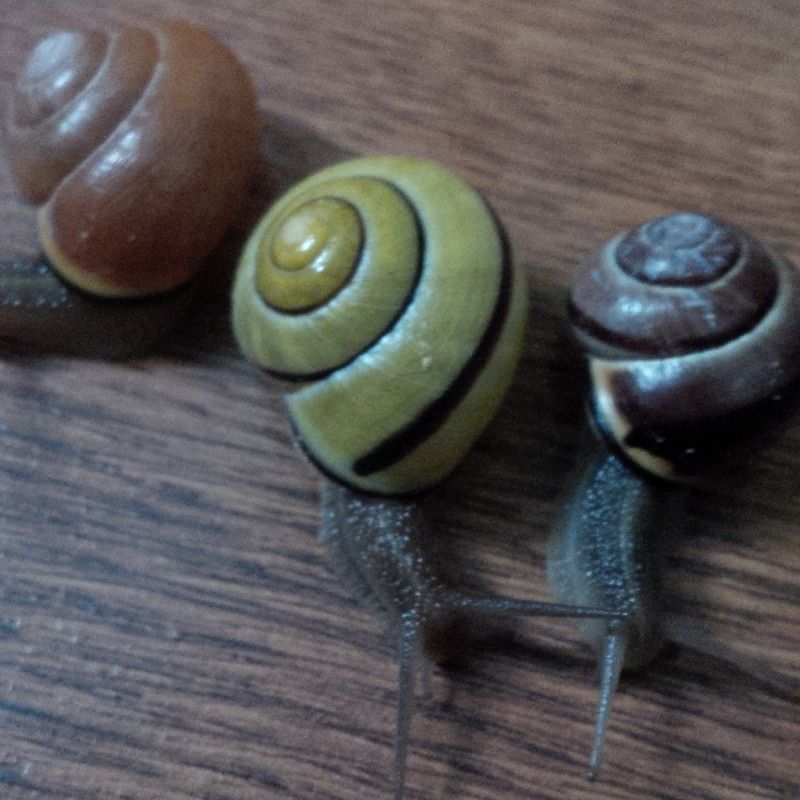 Neohelix albolabris left, Anguispira alternata right.
Candled snail shells