Post by taira on Sept 8, 2022 15:33:11 GMT
Hi everyone! I think I should do a proper introduction, I got so excited with the forum I just straight away started posting.. Pardon my manners.. 😅
So, this is Adrian the snail.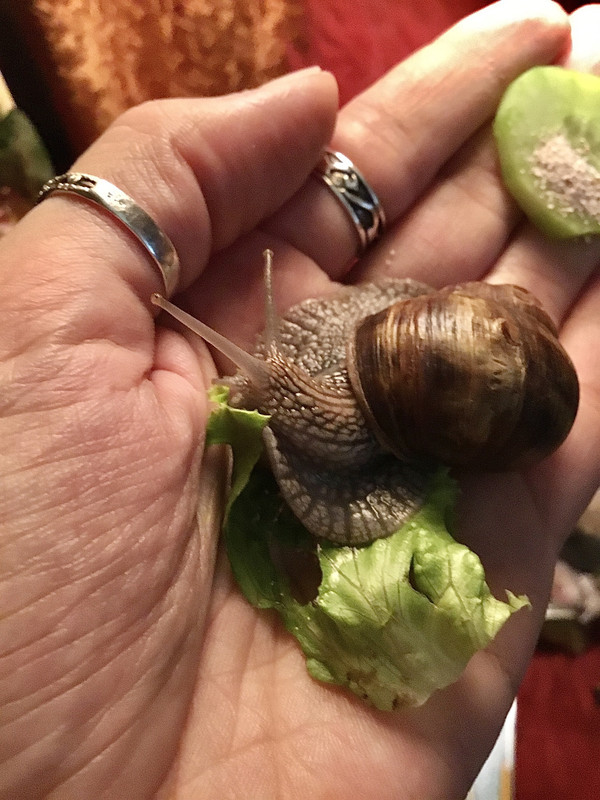 He's a "rescued" snail.
I found him one smelting August afternoon 2 pm or so, in the sun in the middle of a road. He must be one bloody lucky snail, given I picked him up while crossing a very busy traffic light. So how he managed to be in the middle of the boulevard and not driven over by a car yet, is beyond me. So, so lucky.
The first day I didn't know if he would survive. He was very dehydrated, poor thing had a major hole, a smaller one and a crack on his shell, and I'd say even scared and stressed. This is the most I saw of him for the entire first 24 hours or so.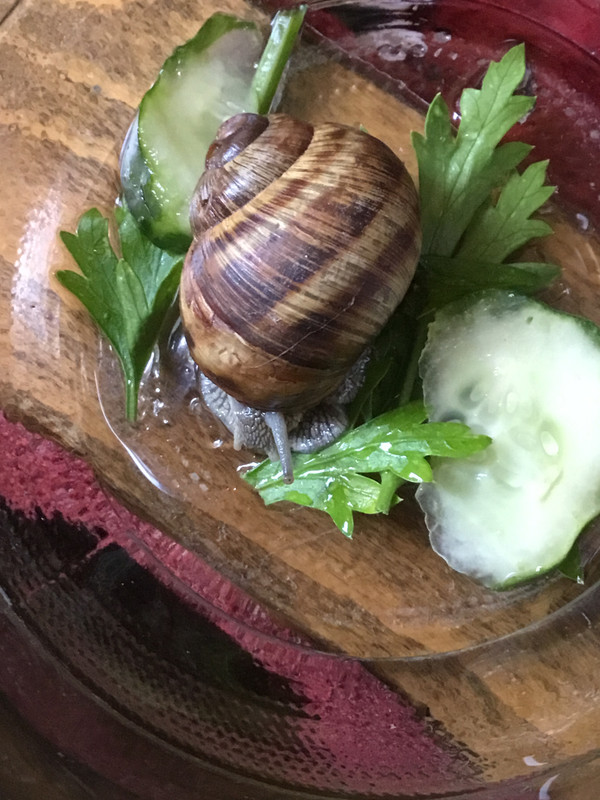 I'm a lifelong goth so I named him Adrian after Adrian Hates from the band Diary of Dreams haha. And after I figured at least for the moment, he's definitely a he. Haha well, they do.. slightly.. look alike.. sometimes..😂😂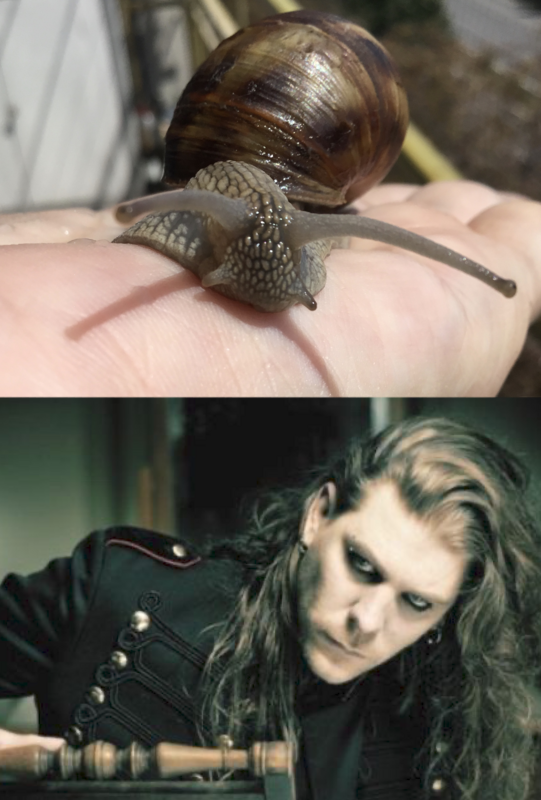 Anyhow, with a lot of care and watching over, just a couple of days later he became fully comfortable and a happy healthy snail
proud of him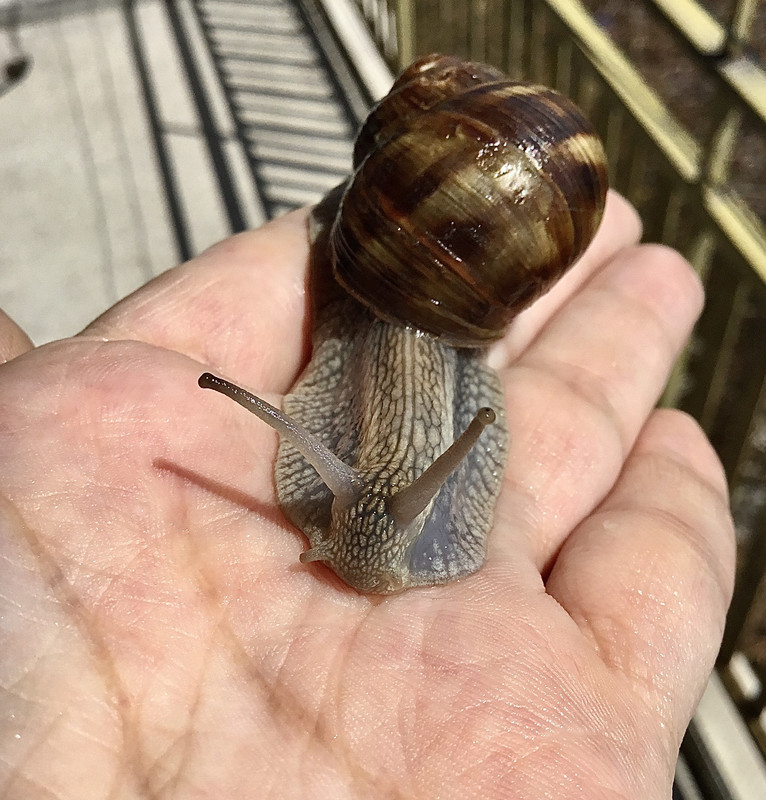 For the moment, his house is ei.. huge 2 & a half litre jar,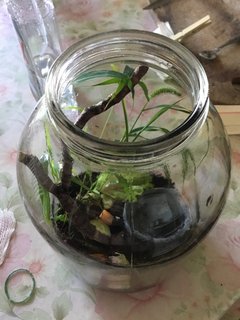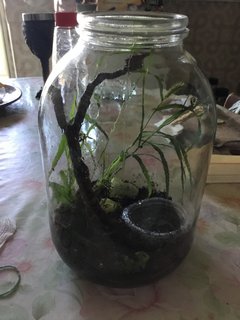 I don't have anything more suitable but saving up for a better more specialized enclosure, I've seen some very cute ones online, in the shape of a house and with front opening; for the moment we have a.. cheesecloth/bandage for "door" but for everything else, I am trying as much as I can to give him a full environment besides food & water, complete with clean natural soil, grass with roots, changing his "workout"/launge/walk stick every other day, and he seems pretty content with life

And sure does enjoy his calcium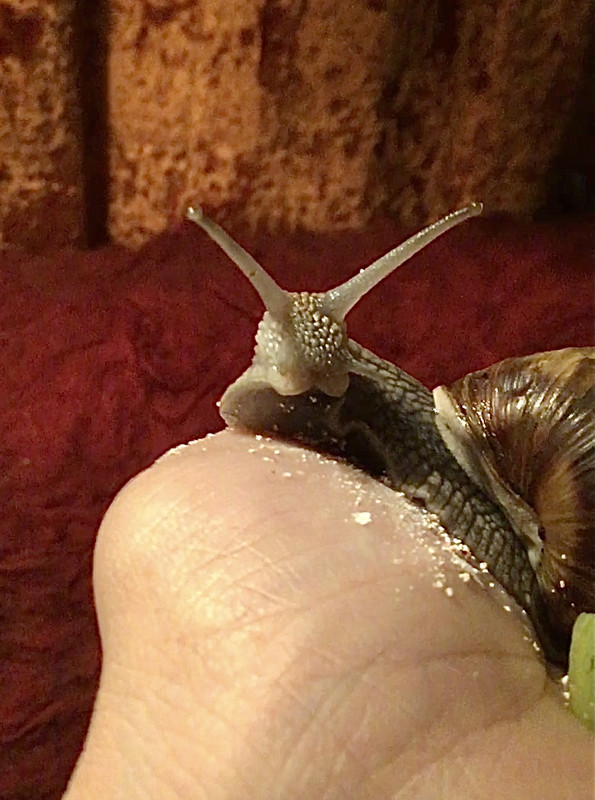 Which is grounded eggshells, in my country it's a little difficult finding cuttlebone in petshops so we stick to eggshells. They come with some protein pieces sometimes too so good

The only problem we have for the moment is.. he's a bit lonely, but every day I'm looking carefully, there are many garden-ish areas around the buildings I live so it's very likely I'll find him friends or hey, even a girlfriend haha, so always looking at my feet out there

As for me, I'm Taira, 35, living in Varna, Bulgaria (thats in Eastern Europe), mostly into arts and such stuff. I've had snails as pets once before, many many years ago as a child, must have been 5 y. old or so; they were 5, all named after Iron Maiden bandmembers haha, so having a pet snail isn't new to me, only now so many years later, I can just do it more properly and advanced, like with soil and all.
So.. I guess that's it, I'm very happy to see pet snails is still a thing, that there are so many people out there interested in it and so many resources and info and communities. Back in the day with my first snails, in my country we barely knew internet even existed haha, we're talking 1994-5, so all we did was from books and vets and zoologists advice and such. Very happy to be in this all over again 😄