Post by taira on Oct 8, 2022 16:36:15 GMT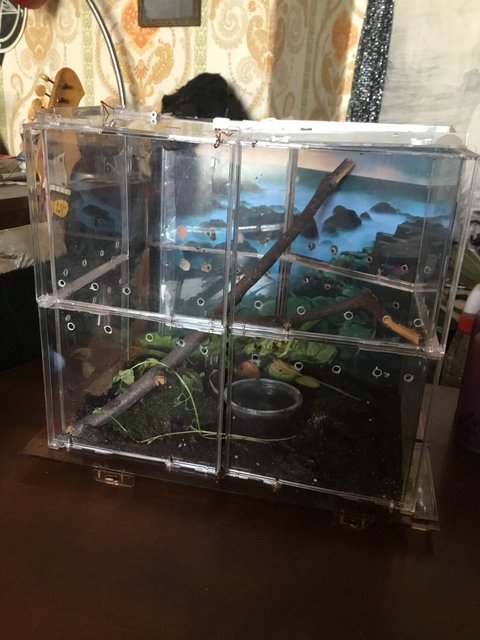 It took over a week to make, exuberant amounts of patience, all by hand and by myself with nothing but CD boxes, bunch of screws, a hand drill, a rounded file, and a couple of pieces from a broken old tape stand for a sturdy bottom! There were moments I thought it would never work out but I persisted and now I'm very excited to share the final result!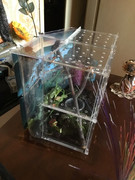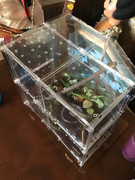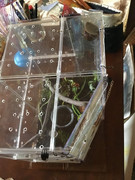 So..
By now for a month or so my Adrian was living in a 2 and a half litre jar, with bandage/cheesecloth on top. It was nice but.. first, the opening was just about enough to squeeze my one hand through so tedious for cleaning, arranging etc., and secondly I kept noticing he tends to stick to the higher parts or even directly the top, more frequently than the usual for snails and their always going up tendency. So I thought, maybe it's stuffy and he's not getting enough air? Maybe he's not happy with space being taller than it is wide? Not any particular sign of discomfort really but I felt there should be something more. To buy a terrarium.. either too big, or too small, or again with ventilation holes only in one place, or full aquarium or for turtles that doesnt even have a lid.. uuuh. Ordering online would cost an arm and a leg in delivery.. So I said well goddamnit, I will just make my own!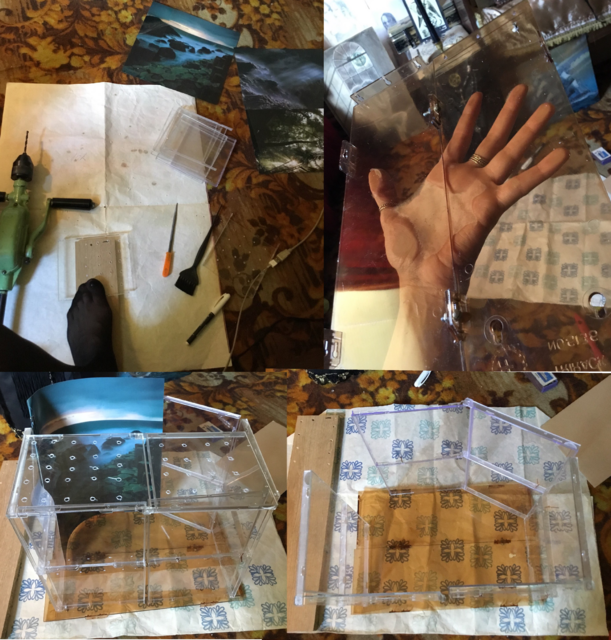 I had the general concept, the design and the engineering thought.. Didn't even google anything about diy enclosures/terrariums, just had the idea and got down to it.
Even interchanging backdrops. I had the "vision" but just wasn't entirely confident how exactly to put it together. Luckily after starting drilling holes, the rest started coming too. Most importantly was the idea I want the CD boxes bent backwards, so as the construction is coming together, to have the smooth, straighter sides towards the snail, not to have to crawl over all those nooks and crannies and edges on the inside of the boxes.
Backs and fronts of the boxes were already folding, you know, so easy to form corners and even how the lid would be. Another important thing was that when bent, there is a big gap where they fold but not big enough for the snail to come out, so I realised this would be perfect ventilation! And to make sure he has abundance of air, I still drilled holes as well, also a bit for like style/decoration. It took some trial and error with drilling, definitely manual drills are trickier than electric but I only have a manual one so accepted the challenge. Another useful surprise along the way was the cd boxes already had some holes on the small edges that aligned great vertically so I didn't even need to drill, just file them a little and perfect fit for screwing them together.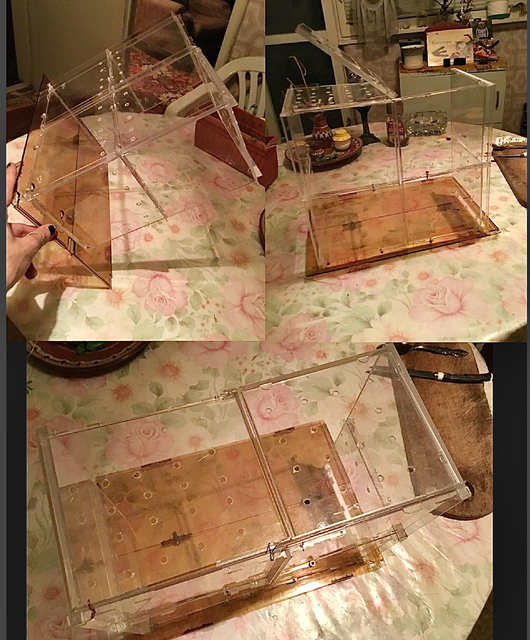 While it was in progress, there were wobbly parts, shaky.. But to my astonishment the final result is nothing like it, it's fully stable and steady. I tested it with putting a small rubber ball inside, closing everything and shaking it around as much as I can and everything remained in place! Hooray! It was moving tiiiime!~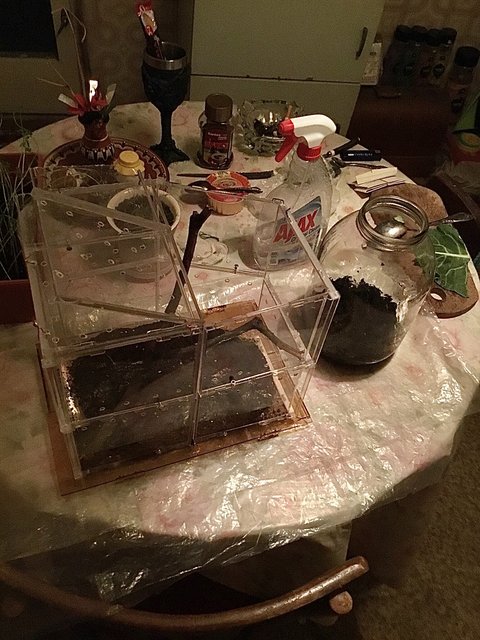 The only sort of unfinished bit is the latching. I'm still thinking how to make it, sticking to my 0 budget condition and to the fact it's a SNAIL, it's not going to exert some big force to run away hahaha so it should be just some clip. For the moment I'm using two mini hair clips, or sometimes just putting this fibre lamp on it, it's very light but heavy enough that the lid doesn't open if you nudge it from under.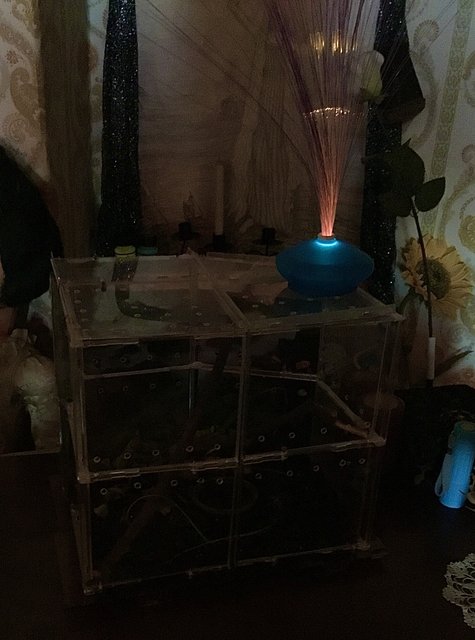 And that is it. Ingenuity! out of sheer poverty, haa 💪 But to be honest, I'm mega happy how it turned out. In a couple of weeks I'll be able to afford whatever readymade terrarium I want but I don't think I'll get any after all. The one I made is so custom, with so much thought and time in it, I really put my heart into it, and it's so totally unique in a way that I don't think I'd find anything more suitable. And something this lightweight, dismantable and easy to clean and arrange too! And what is coming next are some decent actual planted plants. Now that there's enough space for more soil, I'm absolutely sharing some of my vegetable seeds with Adrian's new enclosure

Here's some bits of Adrian exploring, and exploring, and exploring..
Truly, to him it must be like moving from a bedsit to a manor haha XD